As in the last years here comes my recap for 2017. Older flashbacks can be found for 2015, 2014, 2013, 2012, 2011, and 2010.
Best Decisions
Taking a couple months off to travel. I am very happy that I managed to write a series of posts whilst travelling. This was the first time that I blogged whilst travelling and it was a different experience; whilst writing the texts the memories were still fresh and the feelings present.
Going Analogue. Haven't had my digital camera in the hands since I got a professional analogue one. It's a very nice experience to have this moment when you unwrap the developed photos, already having forgotten half of the motives. I enjoy this a lot.
Stopped reading news sites. I think this is a natural path following from the "I moved away from Twitter, etc.". I feel that it does me better to not follow daily news. I also stopped reading newspapers a while ago (though "Der Freitag" was an excellent subscription newspaper, which I enjoyed for a long time).
New Interests
Good bakeries are few and sparse in Berlin. This is in stark contrast to the south of Germany where there are typically a couple dozen good bakeries in a small town like Ulm — each with a vast selection of breads and some which still bake bread in-house. I miss this and that's why I have started baking bread. Overall, I think I must have baked ~20 breads in the last months.
In the past I was reluctant to bake bread at home, due to the worse DIY bread I have been served in the past. This DIY bread was mostly bad because it was made in an oven which wasn't capable of generating enough heat to have a real, "proper" crust. It is possible though, if you get yourself a dutch oven (which I have). It's actually quite easy and astonishing how little ingredients are necessary to make a nice bread. You can go a long way with just flour, salt, water and yeast.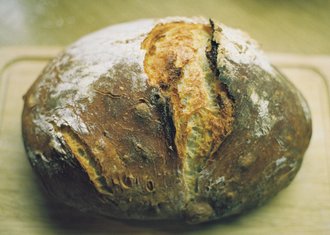 University Life
My university life is finished now. Whilst I had the most amazing time of my life during my B.Sc., I couldn't follow that up in my M.Sc. and the last semesters were more frustrating than fulfilling. Nevertheless my academic career shed out two further publications this year: My master's thesis has been properly published, it has a DOI now and is published by the University Ulm (publication page, pdf). Furthermore, another project was published: Circular Selection — I made its code freely available on GitHub (repository).
Job
In the past I did a lot of freelance work besides university (some web development stuff, some software development and some media stuff) and worked in many different roles at university (mostly as a research assistant). This year I got my first proper, professional full day job though. It's quite a different experience, but I enjoy that I now finally have a time where I can go home and don't still have to do work. The same goes for weekends, this now really is my free time. At university this was very different and I think for my entire time there I never had any period where I had the feeling that there is nothing I must work on. There was always something to be done, handed in, read about, etc..
Books
I wrote a separate blog post on that topic again.
A short story which really stuck with me was "Trolls Head" by Christopher Fielden, it is sadly not available online though.
Best Photo I shot
I really like the photos I took in India earlier in 2016. I am also very satisfied with some portraits I took of people close to me.
IT & tools
There is no certain "new shiny" tool that I discovered and use now all the time, but lots of small improvements. I am very comfortable with my digital home. I still use Arch Linux and a version of dwm which I modified in some ways which suit me. I still have a heavy focus on the shell and my main tools are tmux, git, vi, ksh, and mmh.
At work I regularly do devops on linux servers and recently out of fun set up my own virtual server to play around a bit. I have kept it and use it for some stuff now.
Article
A theme which has resonated with me throughout this and the last year surrounds Artificial Intelligence, Singularity and the border of human consciousness/machine intelligence. The article "Why Digital Computers Can't Have Consciousness" postulates an interesting perspective on why conscious machines may not be achievable with current technologies. Though I don't agree with everything in the article, it provides an interesting perspective. This article provides an opposed point of view.
Outstanding Video/Trailer/Commercial
Valerie showed me Lillies of the Valley and told me about Pina Bausch. The video is really nice and shines some light on the excellence of this choreographer.
I think the Deus Ex — The Mechanical Apartheid trailer is done extremely well and paints an interesting vision of a not so far future. In terms of commercials I enjoyed the visual style and cyberpunkish vibe of the Yamaha – The Dark Side of Japan commercials. This reinforced my interest of visiting Tokyo in the near future.
Movie/Series
I haven't watched that many movies or series throughout the year. This is something that really changed in the last three years or so. I still occasionally go to art-house cinemas, but quite seldom. In late 2016 I finally got myself to watch the last few episodes of Dexter, a series that I liked a lot in the past. I was very disappointed by the ending though (as a lot of other people were).
Two series which I on the other hand enjoyed a lot just in the last two months were the clever reboot of Westworld and the reality-based Narcos. I also liked the BBC adaption of the War and Peace series (it's six parts). The score of the series is outstanding.
Valerie got me interested in Woody Allen and I watched some of his movies with her. I like them actually, they don't take themselves too serious and often show an idealistic world and depict themes surrounding love. "Vicky Cristina Barcelona" was my favorite so far, I enjoyed that movie a lot.
Music
What stands out this year is White Buffalo, whom I discovered in Buenos Aires, and the electronic music group LORN. Both hit the right vibe at the right time and I listened to much of them.
Technologies I discovered
Stefan deserves credit for getting me hooked on the Aeropress and Chemex. Something I enjoy daily.
Honorable mentions
I discovered (by chance) that a visualization I produced is used for the title picture in a Wikipedia article. That was nice. Also some of my GitHub projects have gathered a number of stars (one even has a couple hundred); that's also nice to see.
Projects
Finally set up a website/blog for Valerie: http://www.valerie-kast.de.
Got some older projects to work again. Among them is findsgut.de, a platform I created as a hobby project with some friends 2-3 years ago.
Set up a Unix diary: http://micha.elmueller.net/unix-diary. I haven't announced this here properly, but I added it to the sidebar now.
Looking forward to 2017
What will 2017 hold? I don't know, but hopefully more satisfaction.
My new year resolutions are:
Buy maximum 5 clothing items.
I already did that two years ago and found it quite easing to not have the option of buying a lot of stuff.
Cook a new meal each week.
This is also a repeater with a positive record.
Learn more Spanish and don't lose all the stuff learned in South America.
Finish up some old, half-finished projects.
Phone more with friends.
Donate more.
Make one publication.
Get rid of more stuff, keep striving for minimalism.