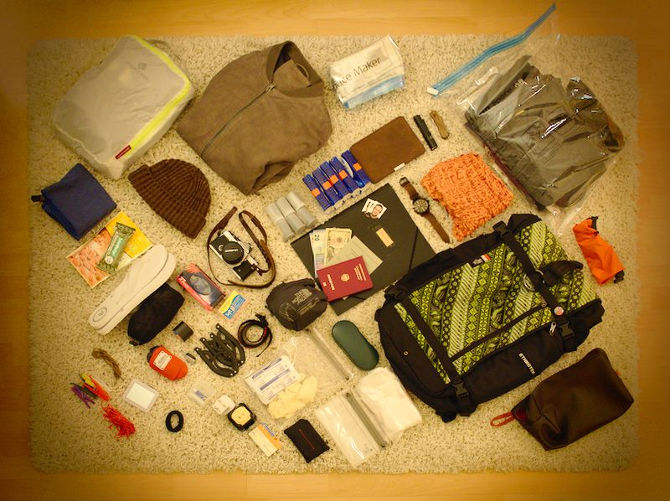 If you're a bit into travel blogs, minimalism, one bag philosophy, vagabonds, or digital nomads you will soon stumble upon one of those packaging lists where people elaborate on the stuff they take with them when travelling. I like to read those lists, considerations, and reflections. In this post I have compiled one such list for a short, two week backpacking trip to Israel.
In similar lists and reviews I have sometimes read stuff like this (original quotes):
Comment on an extensive packaging list for a trip to Asia:
Thanks for sharing! If you were to look back, would you have taken less?
Answer:
Actually built this over the last year, but haven't gone on the big trip yet…
I don't understand how you can compile a list of tips for stuff to take with you or review a product without having actually used it? So, well I have written this post only *after* I actually went to Israel. I have included some names of products in the post, though I did so hesitantly and only for stuff which I found worth mentioning.
Map with documents.
Copy of health insurance, list with addresses of family/friends, copy of vaccination records, biometric photos, international drivers license, address and telephone number of German embassy, pen + some plain sheets of paper, blood donor card (it contains information about the blood group).
The vaccination records are required by some countries to let you immigrate and even if they don't require them, it's still a good idea to have them with you in case of emergencies. Biometric photos can be required for all kinds of things (in India for a lot of stuff, e.g. to buy a SIM card).
30 USD.
Since a while I always carry 30 USD as immediate cash for emergencies when travelling (e.g. when I can't find a working ATM). In all foreign countries where I have been to it was always extremely easy to exchange USD to a native currency. I usually also have some Euros in cash with me.
A small, watersealed bag with various small items.
Rope (to make a clothes line), clothes peg, gaffa tape, Sugru (formable glue), power converter, Smartphone + charger, lighter, pocket knife, lock, flashlight (Fenix LD12), backup battery for flashlight, small mirror, case to store glasses, ear plugs, flexible strap (to e.g. attach stuff to the backpack).

Also I always have some fresh waste bags with me. They can be used for all kinds of stuff: to wrap liquid stuff and prevent it from leaking, wrapping flip flops before putting them inside the bag, as a way to collect clothes from the washing machine, or — of course — as a waste bag.

Since a while I always have foldable coat hangers with me, they are quite small and it's easy to hang stuff to dry or just to let clothes gain some fresh air.

Large Microfiber Towel.
Lightweight, dries fast.
Something to eat.
Nuts or a muesli bar (a Cliff Bar usually). Something which can survive heat and being buried in the backpack. I found it calming to always know: I have something to eat with me. For example, if there are no shops open when arriving somewhere I will still have something with me. For long bus rides it's also comforting to have something small as a backup.
Analog camera + 5 films + throwaway camera as backup.
I separate the used from the fresh films by storing them in two different, small, labelled vacuum bags (Noaks Bags). The films should always go in your hand luggage (see this site of Kodak on why).
One long trouser (which I wore), one short one (which it was too cold for), one swimming trunk (which it was also too cold for). Some shirts, sleeves, underwear, a normal jacket, and a lightweight, foldable rain jacket.

I usually don't take thick pullovers and instead go for a layered approach of wearing multiple layers when it gets cold. This way I need to carry less stuff. I usually have some Icebreaker merino shirts with me, they are very comfortable in hot and cold climate and they dry fast. Also: wherever I go, I always take long thermal underwear with me. And I always carry a scarf and a hat. Even when it is hot, bus rides or train rides might still be windy. Carrying a hat is easy, it doesn't have a lot of weight or take a lot of space — but if you're cold a hat can already help a lot, since your body evaporates a lot of heat via the head.
I always have two vacuum bags with me (by Nordisk), in which I store all clothing: one for clean clothes and one for dirty ones. The vacuum bags keep them properly separated.

Flip Flops.
Kindle.
An eBook reader has an immense value to me when travelling. Sure, books have their pros, the feeling of reading a worn-down, color faded paperback is of course nice. But books also take up a lot of space. In previous journeys I often went through 2-4 books and they were often taking up way too much space. One time I had a book with me and realized after a couple of pages that it wasn't working for me, I then put it away and went on the sad search for an appealing alternative in Thailand's outback. The Kindle solves all these issues and I think the pros outweigh the cons.
Foldable, lightweight backpack.
For walking around in the city and not having to carry the bigger backpack everywhere. I use one by North Face (the Flyweight) which has a clever feature: The pouch (in which it is kept in the packed state) is integrated in the backpack in a nice way when it is expanded; it then functions as a theft protection pouch, since it isn't easily accessible when someone unzips the backpack.
Foldable, lightweight blanket.
I used it for picnics and sitting at the beach.
Some medical stuff, band-aid, rubber gloves, something against insect bites.
I store these things in one vacuum bag as well.
Ethnotek 46l backpack + rain cover for it.
Bag with toiletries, handkernchiefs, and sun protection.
Wallet.
Two credit cards of different providers. Organ donor card.
Passport.
The most important thing last :-).
That's it. Not that spectacular, but that's how it should be. Minimalistic. I quite enjoy that it takes me maybe 5-10 minutes to pack everything up when leaving the hostel. I have reflected over each item and thought about why I take it with me.
And now the list of all the things I should have taken ;-):
I didn't take my hiking shoes with me, but I should have. It would probably have been best to solely take them with me, but I don't really like the style of them when walking around in cities or going out in the evenings.