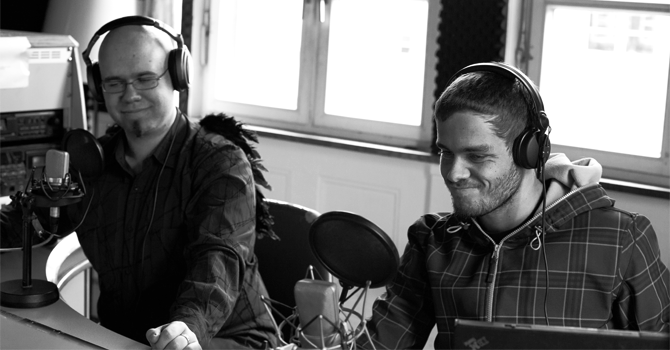 I regularly participate in events by the Chaos Computer Club. I've been to the camp and held some seminars here in Ulm. Besides that we have a radio program at a free radio station here in Ulm: /dev/radio is on every two weeks for two hours at 13:00. 102.6 Mhz / Radio freeFM. Free radio means that anybody who becomes a member of the non-profit association and pays a small annual fee can get his own slot. /dev/radio plays only free music. Meaning music under a free license, preferably Creative Commons.
In one of the last broadcasts matou and hannes (right and left in the photo above) set up a challenge to submit a proposal for a jingle. A few hours before deadline I decided to give it a try. This is what I came up with:
The morse code in the beginning was originally created by matou via a smartphone morse app. I applied various effects and did some editing on it. The background song is licensed as CC-BY-NC and is called "Rooted in Peace" by rocavaco. It is available here.